The group calls on the government to tackle climate problems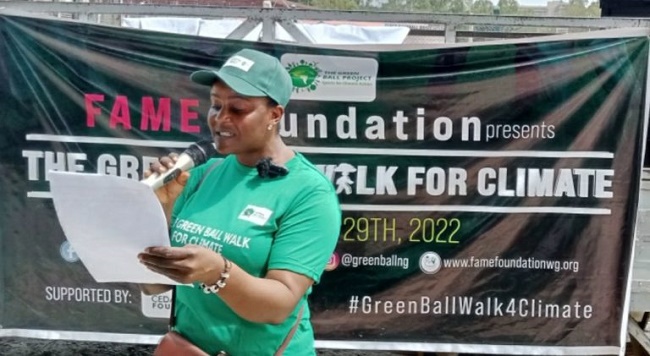 The FAME Foundation, organizer of the Green Ball Walk for Climate 2022 on Saturday October 29 in Abuja, has called on the Federal Government to address the persistent climate problems in the country.
Ms. Aderonke Ogunleye-Bello, Executive Director of the FAME Foundation, made the call during the Green Ball Walk.
The FAME Foundation is a non-governmental organization that focuses on climate issues.
According to Ogunleye-Bello, the impact of climate change is greatest in Nigeria and Africa, where emissions are relatively low compared to the rest of the world.
"Serious climate hazards are the current environmental issues facing Nigerian citizens as 33 out of 36 states in the country are severely affected by floods.
"Citizens residing in specific locations, such as rural communities, refugee camps, slums and disadvantaged communities, are already more exposed to climate change.
"They are the most vulnerable to the effects of this damage due to factors such as high illiteracy rates, poor governance and little or no action to control climate change," she said.
Ogunleye-Bello urged all political candidates running in the upcoming 2023 general election to address climate change in their manifestos.
"Government at all levels, federal, state or local, must play a role in addressing climate change.
"We urge delegates at the upcoming COP27 in Egypt to objectively examine the country's climate situation and make decisions that will benefit the country.
"We anticipate that they will take action that will ameliorate Nigeria's climate and environmental issues," Ogunleye-Bello said.
COP27 is the 27th session of an annual global conference that addresses climate issues and Egypt is hosting the 2022 edition on November 6.
A march for climate change was carried out by the Apo Bridge Group at the Old Parade Ground, Area 10.
Likewise, Amb. Sylvia Sarki, national youth leader of the National Council of Women's Societies, called on the federal government to address the problem of flooding in the country.
"Many lives have been lost, property damaged and our economy is down due to the floods.
"In fact, the floods have also caused fuel shortages with long queues in Abuja and parts of the country.
"We are facing this shortage and long queues as some of the FCT border communities cannot access the territory for gasoline supply due to flooding," Sarki said.
She called on the government to vet contractors to ensure quality work was being done in terms of draining waterways to prevent flooding.
"I urge the government to appoint qualified and competent environment ministers and commissioners to deal with the environmental problems in the country," Sarki advised.
She expressed optimism that the group's march on climate change would bring about positive change in the country.
By Abigael Joshua
Related