Students from the UN, UK, Italy and Egypt discuss climate issues in Kazakhstan ahead of COP27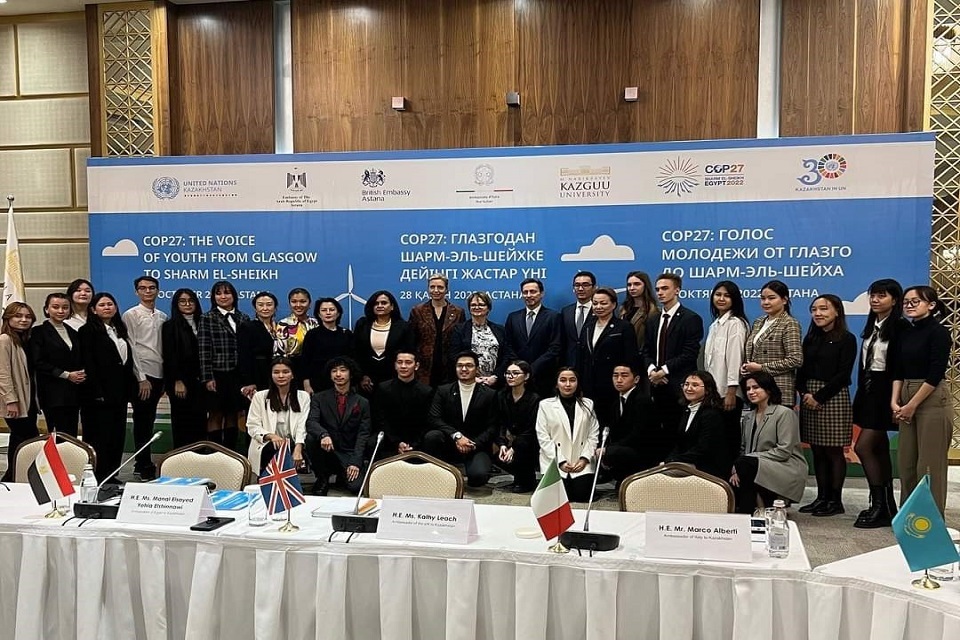 In preparation for the next COP27 meeting which will take place from 6 to 18 November 2022 in Sharm el-Sheikh, Egypt, the United Nations Resident Coordinator's Office, the British Embassy in Kazakhstan, the Italian Embassy in Kazakhstan and the Egyptian Embassy in Kazakhstan, in partnership with KazGUU University, organized a student debate 'COP27: the voice of youth from Glasgow to Sharm El-Sheikh'.
The event aimed to raise awareness of climate change, put the topic on the public agenda, inspire and encourage young people to find climate solutions.
The pre-COP27 debates brought together around 30 students from the faculties of international relations, economics and law of KazGUU University, forming 4 teams to discuss the collaboration of countries, climate change mitigation, adaptation and sustainable finance.
Addressing the students, the United Nations Resident Coordinator in Kazakhstan, Ms. Michaela Friberg-Storey, noted:
Today's event is the continuation of a good tradition. It is time to regain trust and work together constructively to build on Glasgow and deliver a set of concrete results to COP-27. The UN Country Team is working with the Government of Kazakhstan in terms of updating the NDC for later submission to the Conference of the Parties this year. It won't be easy, but scientists say it is possible and that every degree matters, every year matters and every decision matters. In this regard, youth is a powerful force, helping us to accelerate the 2030 Agenda and the Sustainable Development Goals and making us more accountable.
Ms. Kathy Leach, British Ambassador to Kazakhstan said:
The Glasgow COP brought together almost 200 countries (including over 120 world leaders) and gave the world the tools to keep 1.5C alive. The Glasgow Climate Pact remains the blueprint for accelerating climate action in this critical decade. Yet the Pact is just words on a page without action. This is a pivotal moment to redouble our efforts. Every country needs to review and strengthen its climate change goals. We must also support countries vulnerable to climate change by ensuring that adaptation and loss and damage commitments are honored, by taking real and practical action on the ground. None of this will be possible without the mobilization of climate finance. We continue to work with countries, international financial institutions and private financial institutions to deliver on the commitments they have made and help ensure better access to critical funding.
Mr. Marco Alberti, Italian Ambassador to Kazakhstan, said:
COP26 the messages were quite clear: secure the emission reduction pledges; provide for countries vulnerable to climate change by ensuring that adaptation and loss and damage commitments are met; obtain financing flows; work together and continue to be an inclusive presidency. This is the very heart of the message that we wish to deliver to our Egyptian friends. The slogan of COP27, "Together for implementation", is composed of 2 key words: implementation, which is the common objective that we must share to save the planet; and together, which indicates the path we must take if we want to achieve this goal.
Next month, Egypt will host COP27 with a view to building on previous successes and paving the way for future ambition. Ms. Manal Elsayed Yehia Elshinnawi, Ambassador of Egypt to Kazakhstan, said:
The Egyptian COP27 Presidency believes in the need for inclusive, rules-based, ambitious and substantive outcomes, up to the challenge and reflecting political will, science-based and principle-driven, building on on decisions and commitments from Rio 1992 to Glasgow 2021. Effective implementation requires meaningful and inclusive engagement with all stakeholders. This acquires particular importance in relation to youth, since we live in a world where 52% of its inhabitants are under 30 years old. Young people are also at the forefront of creative and effective solutions that support their local communities and the broader global response to climate crises. Thus, the future Egyptian presidency is keen to make COP27 a hallmark for inclusive and meaningful youth engagement.
Ainur Karbozova, Deputy Chairman of the Board of M. Narikbayev KAZGUU University, said:
Since Kazakhstan joined the UN in 1992, our country has been one of the most active members of the UN, with all important political initiatives being promoted from the UN headquarters. The United Nations strongly supports all reforms in Kazakhstan, but at the same time facilitates the successful implementation of the SDG agenda by engaging students to also tackle climate change issues. We are therefore very grateful to our students for having a unique chance to wear the hats of global politicians and face the current challenges of humanity.
The conference will provide an opportunity for multilateral collaboration between countries to phase out fossil fuels, accelerate the shift to renewable energy and implement energy efficiency measures to support demand reduction.