PM Modi to discuss key issues of global concern with G-20 leaders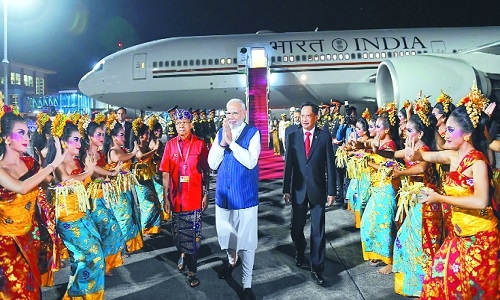 By Ashwani Talwar
BALI,
PRIME Minister Narendra Modi arrived here on Monday to attend the G-20 summit of major world economies and hold sideline bilateral meetings with key leaders on pressing global issues.
The two-day summit begins Tuesday morning and will bring together US President Joe Biden and British Prime Minister Rishi Sunak among the leaders of 20 countries and the European Union who make up the group.
"Prime Minister @narendramodi landed in Indonesia to attend the @g20org summit.
The Summit will witness in-depth discussions on pressing global challenges. The Prime Minister will interact with various world leaders during the Summit," his office said in a tweet. Modi, who received a traditional and colorful welcome on arrival at the airport here, said he looked forward to having talks with world leaders on global issues during his visit.
"During the Bali summit, I will have in-depth discussions with other G-20 leaders on key issues of global concern, such as reviving global growth, food and energy security, the environment, health and digital transformation," Modi said before his departure. from Delhi. Modi said he would meet the leaders of several other participating countries on the sidelines of the G-20 summit and review the progress of India's bilateral relations with them.
Modi will have separate bilateral meetings with a number of leaders on the sidelines of the summit, but it was not immediately clear if a separate meeting between Modi and Chinese President Xi Jinping, who arrived in Bali earlier in the day, was in the works. . If it does, it would be the first one-on-one interaction between Modi and Xi since the border clash between Indian and Chinese troops in the Galwan Valley in June 2020. During the Summit of the Cooperation Organization of Shanghai (OCS) in Samarkand in Uzbekistan in September, the two crossed paths.
In Beijing, a Chinese Foreign Ministry spokesperson said maintaining healthy relations was in the fundamental interests of China and India and their peoples. Modi will take part in the summit session on health and another on food and energy security on Tuesday, where leaders are likely to discuss the impact of Russia's war in Ukraine.