Model UN event gives students a voice on climate issues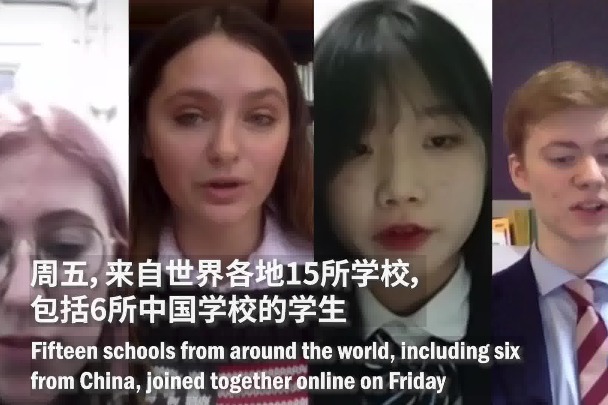 (Video by Cui Chaoqun)
On Friday, students from 15 schools around the world took part in a virtual Model United Nations event, where they gave their views on climate change.
The event, titled Good Cop Bad Cop, involved 140 students from China, the UK, Australia and Ireland, who debated the climate resolutions agreed at the COP26 summit in Glasgow, Scotland, l 'last year.
The event organizers wanted students to develop a better understanding of what tackling climate change entails and give schools around the world the opportunity to connect with schools in China.
The Model UN conference was organized by UK-based educational charity Engage with China, which hopes to boost literacy in China and develop global awareness in UK schools.
Theresa Booth, director and administrator of Engage with China, hoped the conference would help students better understand that "all nations need to collaborate, listen to each other (and) understand each other's unique challenges and needs."
She said such an understanding is needed "if we are to have any hope of successfully tackling global climate change, and that applies to other global issues like any future pandemic."
Feng Jialiang, adviser for policy research at the Chinese embassy in the UK, said in a video message at the event that he would like to see continued international engagement and cooperation on climate change.
"We hope all parties involved, including the UK, will strengthen cooperation and promote green developments, to protect Mother Earth, our common home," Feng said. "Climate change and biodiversity loss are global challenges. Addressing these challenges requires solidarity, coordination and cooperation and it also requires the continued work of future generations."
Feng added that the Model UN event provided students with a unique opportunity to learn about multilateral processes, prepare for the future, and "contribute to building a community with a shared future for the future." 'humanity".
At the conference, the students represented countries other than their own.
The six Chinese schools represented the European Union, India, South Africa, Japan, Saudi Arabia and the United Kingdom, while one Irish school represented China.
Before dividing into different virtual rooms to discuss different aspects of climate change, the student delegates made introductions and presentations.
King's Hospital School, Dublin, Ireland, represented Barbados.
The school delegate said: "Climate change may not seem too real to those in other countries, but for countries like Barbados and my home country of Ireland, we live on islands and it is becoming very real to watch the sea come closer and closer every year to your homes and livelihoods and will lead to the imminent death of billions of people around the world who live in lowlands."
The delegate from the Shenzhen Foreign Language School in China, representing Saudi Arabia, said: "It is important to stress that climate change is happening and it poses a very serious threat to our weather. Fortunately, there are many solutions to climate change, they are well understood… Implementing climate change policies is a long process and cannot be implemented all at once.
The Marlborough College delegate said: "Climate change is an underlying threat to all nations, communities and individuals around the world and it is something which, although not immediately apparent everywhere, must be addressed. urgently addressed… The very fact that the students are here today to debate, assess and reflect on the successes of the international community at COP26 shows the hope that future influencers will be ready to bring change and achieve goals."