Kenyan youth call on world leaders to act on climate change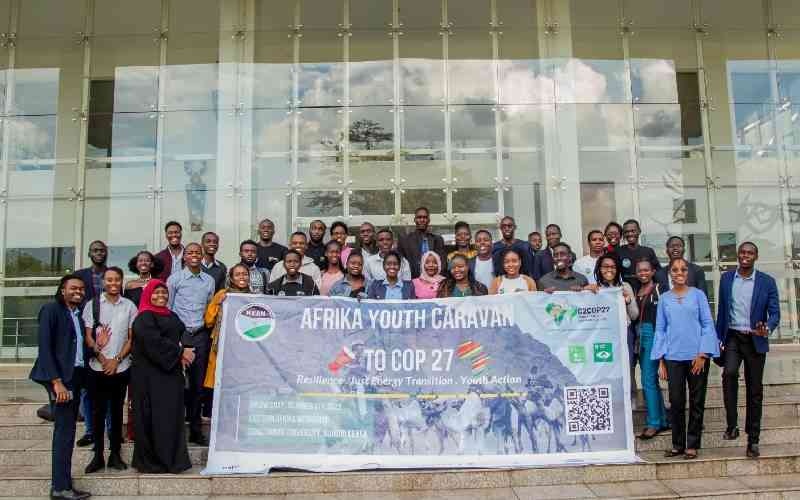 Kenyan youths called on world leaders to seek climate justice as they shared their experiences of dealing with erratic climate change in their communities at a conference held in Nairobi.
The event, dubbed Afrikan Youth Caravan and hosted at Strathmore University, brought together young people from different parts of the country to share their solutions to the climate change crisis ahead of the UNFCCC COP27 to be held in Egypt in november.
With the current drought situation in parts of the country and region, addressing climate change is a pressing issue for Africa as it affects the economy and livelihoods of millions of people.
The Kenya Environmental Action Network (KEAN), together with its main partners, the Youth Sustainable Development Network, Action for Nature and Youth4Nature, organized the two sub-regional workshops to engage young people across the continent.
"We are resilient in the face of the climate crisis. The notion that young Africans are victims of the climate crisis is much broader, but sheds little or no light on the transformation taking place within the climate space. The caravan challenges narratives through three key messages of resilience, just energy transition and youth action," explained Kaluki Paul, COP27 Stakeholder Manager for Nature4Climate.
Elizabeth Wathuti, founder of the Green Generation Initiative (GGI), noted that at major climate conferences, promises made by leaders are not kept and that with inaction, communities are greatly affected.
"This is where we come in to challenge that model. We must not be afraid to hold world leaders accountable.
"Young people are bridging the gap and really showing what climate leadership really is – when it comes to climate, we are in fact the leaders of today," Wathuti said.
Important elements of campaigning for climate action were also discussed, including storytelling which was established as key to changing people's mindsets about the role of young people in the climate space.
"Young people need to find a place in the decision-making process. We need inclusion because we work at the local level within communities. There is still a gap because young people are excluded. Let's try to find consensus where we can work together," advocated Peter Bulimo, the consultant for the Bustani Gardens project.
The link between climate change and the economy was adequately addressed by Wanjira Mathai, Africa Director of the World Resources Institute, who called for an intersectional approach to issues affecting the country.
"Unless you have some level of economic empowerment, adaptation is impossible. We need to link climate change to the economy.
"There is a need to protect the integrity of indigenous forests, ensure effective and efficient food production and encourage restoration," Mathai said.
The conference was one of a series of others held simultaneously in other parts of Africa. The young people will conclude the caravan in Sharm-El-Sheikh where they will present the results of the workshops as an African youth statement to COP27.