During debate, Democratic candidates avoid climate issues like coastal retreat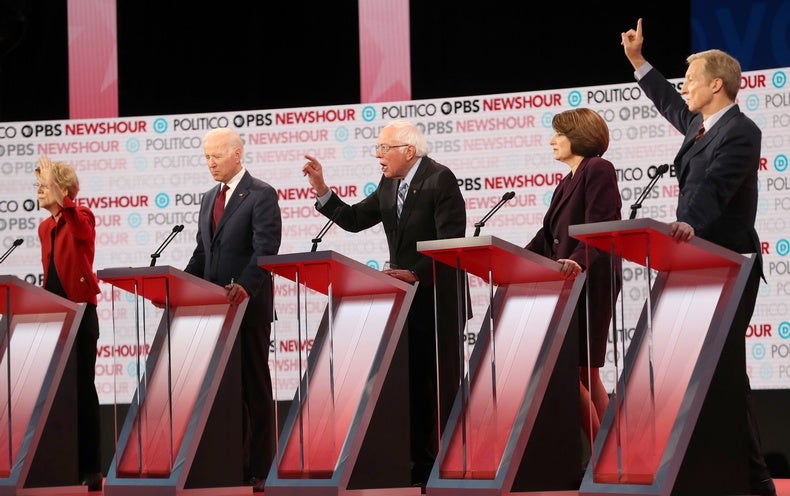 Last night, Democratic presidential candidates were reluctant to confront the harsh implications of climate change.
Each of the seven candidates on stage for the sixth presidential debate described the climate issue in existential terms, and some promised to declare a national emergency. But most of them avoided giving direct answers about the politically perilous consequences of global warming, such as whether certain communities had to be abandoned due to rising sea levels. At other times, they have promoted policies that appeared to run counter to their climate priorities, including in foreign affairs.
It was one of the longest talks on climate change in the half-dozen debates, but the candidates mostly refused to oppose each other. The exception was billionaire investor Tom Steyer, who twice used the climate as a line of attack against South Bend Mayor Pete Buttigieg.
Buttigieg threatened the diplomatic and economic isolation of China, the world's biggest emitter of greenhouse gases, if the Chinese government resorted to violence against pro-democracy activists in Hong Kong. Steyer responded that such a move would doom international climate action.
This followed a question almost everyone dodged about whether the government should move people from cities hardest hit by climate impacts, like Miami or Paradise, California, where dozens of people have died in 2017 during a forest fire.
Steyer didn't give a straight answer, although he called on Buttigieg to "prioritize this".
Buttigieg also tiptoed this question, although he noted that he lived near a river that, within two years, swelled with 2,000-year-old floods.
Minnesota Senator Amy Klobuchar called climate change an "existential crisis" but suggested that only individual homes, not entire towns, should be moved. In fact, entire cities and towns in Alaska are already trying to do just that, and retirement options are being discussed in states like Florida, Louisiana and California.
Former Vice President Joe Biden has turned the relocation issue into a rebuilding issue, saying new infrastructure needs higher standards for resilience and energy efficiency.
Vermont Senator Bernie Sanders dismissed the question, saying scientists had underestimated the pace of climate change: "It's not about displacing people and cities. The question now is whether we let's save the planet for our children and grandchildren."
Tech entrepreneur Andrew Yang, whose climate Platform includes a board titled "Move to Higher Ground", was the only contestant with a straight answer.
"Obviously we would have to pay to move Americans away from places affected by climate change," Yang said, adding that wealthy residents are already moving while people with less money are stuck.
"The question is, do you leave this city to fend for itself, or do you come together as a country and say we need to protect our people from climate change?" he said.
His plan has few details beyond the fact that it would cost billions of dollars.
Overall, the candidates sidelined climate politics in favor of climate politics. They mostly stuck to the plans posted on their websites, using them as a springboard to talk about how they would break the deadlock that has stalled climate policy for decades.
Massachusetts Sen. Elizabeth Warren used a question about nuclear power — she wants to keep existing plants but not build new ones — to talk about corruption.
"Understand, the biggest climate problem we face is the politicians in Washington who keep saying the right thing but keep taking money from the oil industry, keep bowing to lobbyists, lawyers, think tanks, buyers – and paid experts," she said.
"If we don't tackle corruption first…then we can't make the changes we need to make to the climate, gun safety, drug prices, all the big issues" , Warren said. noted.
Buttigieg and Klobuchar carried out a similar maneuver, using a climate question to present themselves as eligible Midwesterners.
"The way we approach climate change in a big way is, yes, to talk about what is happening on the coasts … but also to talk about what is happening [in the] Midwest, where I'm from," Klobuchar said.
"It's not flyover country for me — I live there," she said. "And what we're seeing there is unprecedented flooding."
Again, Yang distinguished himself through politics. He embraced nuclear power and said his cost, waste and safety problems could be solved by replacing uranium with thorium. (The Bulletin of Atomic Scientists noted some of these claims are dubious.)
The climate became a guest star when the questions turned to other topics. Sanders pivoted twice on the climate – stumbling once in the process.
When asked a question about race, Sanders began his response with, "I wanted to go back to the climate change issue for a moment." PBS Newshour moderator Amna Nawaz interrupted him and told him to answer the race question, to much applause. Nonetheless, he went on to say that people of color will suffer the most from climate change.
Sanders offered the first climate reference of the night, saying the U.S.-Mexico-Canada trade deal had too few climate provisions for him to support.
Reprinted from ClimateWire with permission from E&E News. E&E provides daily coverage of the essential energy and environmental news on www.eenews.net.