Biden pledges to take more White House action on climate change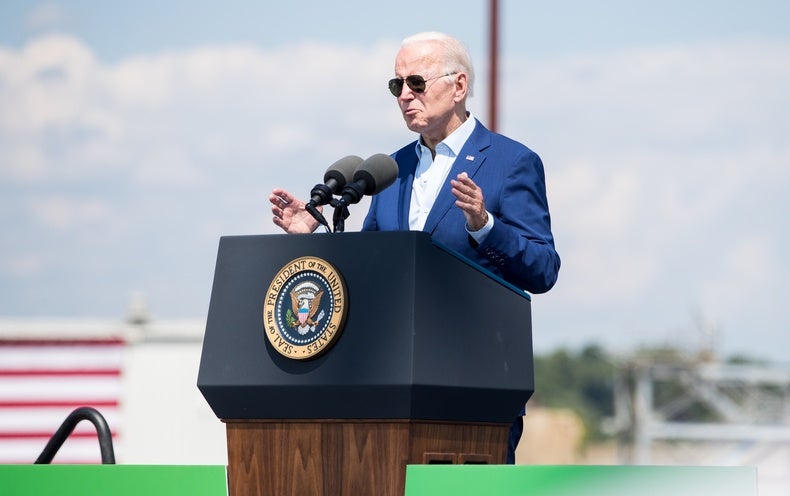 CLIMATE WIRE | President Joe Biden yesterday unveiled a major US wind power expansion in the Gulf of Mexico and pledged to take more executive action on global warming in the face of a deadlock in Congress.
With the bulk of his climate spending blocked by Senate Republicans and Sen. Joe Manchin (DW.Va.), Biden said he would step in and use the power of the presidency to drive emissions cuts through a series of actions and executive regulations to come.
"Let me be clear, climate change is an emergency," Biden said. "And in the weeks ahead, I will use the power I have as president to turn those words into official government actions through appropriate proclamations, executive orders, and regulatory powers that the president possesses. "
Biden made the pledge while speaking at the site of a former coal-fired power plant in Somerset, Massachusetts, which is being converted into an offshore wind turbine manufacturing facility. As part of his speech, Biden said he would no longer let Congress get in his way.
"When it comes to tackling climate change, I won't take 'no' for an answer," he said.
Biden's plan to expand offshore wind in the Gulf of Mexico will include 700,000 acres, with the potential to power 3 million homes. The administration has overseen a significant expansion of offshore wind in the northeast, but these will be the first wind turbines in the Gulf – a region long known for its offshore oil rigs and fossil fuel production.
Development of additional wind farms can now take place off the coasts of Georgia, the Carolinas and Florida after Biden reversed an executive order from former President Donald Trump.
In addition to offshore wind expansion, the White House announced that the Federal Emergency Management Agency would use $2.3 billion to help communities become more resilient to floods, wildfires and storms. heat waves. The Department of Health and Human Services has provided new guidance to help states protect vulnerable populations from extreme heat conditions.
Biden spoke on a sweltering day as much of the globe faced scorching temperatures. A third of the US population was under an excessive heat warning. The tracks were melting in the UK. And wildfires raged across southern Europe and the American West.
During the 2020 election campaign, Biden pledged $2 trillion in climate spending. And since last year, Democrats in Congress have tried to help him keep that promise by rolling out a fiscal reconciliation plan that would have invested more than $500 billion in the goal of cutting carbon emissions in half. 2030.
But those efforts were thwarted by Senate Republicans and conservative Democrats such as Manchin and Kyrsten Sinema (D-Arizona). Biden yesterday took aim at Republicans who have long refused to support policies that would reduce the use of fossil fuels.
"Not a single Republican in Congress has stepped in to support my climate plan," he said. "Not one."
Manchin has spent the past year scaling back the climate ambitions of the reconciliation bill, and his latest decision to kill the plan has increased pressure on Biden to declare a climate crisis emergency. That would move the bulk of climate policy to the White House, but the president's executive actions can more easily be undone by the next Republican administration.
In recent days, climate advocates and a growing number of Democratic lawmakers have grown louder in their calls for Biden to declare a climate emergency, which would unlock additional presidential authority. Many hoped Biden would do so during his speech in Massachusetts.
"The world is burning from California to Croatia, and right now Biden is fighting the fire with the net of a garden hose," said Jean Su, director of the energy justice program at the Center for Biological Diversity. "Saying we are in a climate emergency and declaring one under the law are totally different things."
Other advocates were relieved to see Biden charting a new course on climate.
The president's promise to do more for the climate is the "beginning of sustained action and attention by the administration" to reduce carbon emissions, said Christy Goldfuss, senior vice president. for Energy and the Environment at the Center for American Progress.
"After Sen. Joe Manchin (D-WV) single-handedly killed legislation calling for climate change investments, President Biden knows it's incumbent on his administration to do all it can with climate change. 'existing authority,'" Goldfuss said in a statement. "Today was a step in that direction."
Democratic climate hawks such as Sen. Brian Schatz (D-Hawaii) have said Biden should wait no longer for Congress.
"While we sort out what can pass through Congress, it is time to use the full force of the executive branch to combat this crisis," Schatz said in a statement. "The president has tons of authority under current law, and I'm glad he's determined to exercise it."
Yesterday, White House climate adviser Gina McCarthy told reporters the administration would use executive action to "double down" on its climate goals. She and Biden both called climate change an "emergency," but stopped short of an emergency declaration.
McCarthy said the administration was sensitive to the need for a statement, but insisted a larger plan was in the works.
"We need to think about this and we want to define actions, not just declare things," she said.
Reprinted from E&E News with permission from POLITICO, LLC. Copyright 2022. E&E News provides essential information for energy and environmental professionals.